Last week, I shared photos from
our recent trip to Tybee Island and Savannah
. Although it was nice to get away for an extended weekend and spend some time with my husband's family, that wasn't the sole purpose of the trip. My father-in-law, after many years of hard work, graduated from college! It was a huge accomplishment, and I'm so glad we were all able to be there to cheer him on as he crossed the stage.
Since graduating from college is something that should be celebrated, we all wanted to get my father-in-law a gift to remember the occasion. A quick search online for graduation gifts brings up many ideas - but most of them are geared towards high school or younger college students, not for someone who has gone back to college later in life.

There was only one thing that we knew he wanted: a nice frame to display his diploma in.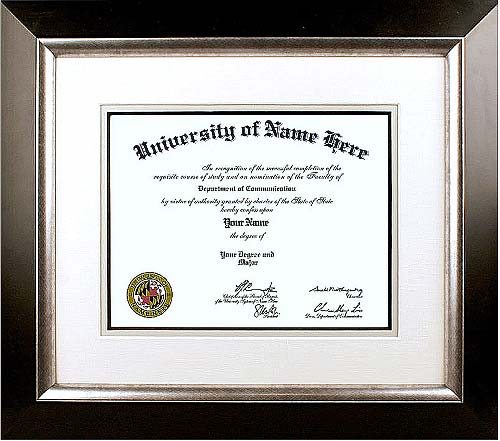 But there were a couple of problems with that. (1) We didn't know which style frame he wanted. (2) We weren't quite sure the dimensions of his diploma. From what we remembered, it was larger than the average diploma. And (3), there was no way that if we ordered it that it would arrive in time. So, we decided that we'd all chip in a little money, give it to him on graduation day, and let him pick out his own diploma frame.
But I find that to be boring. A card and money? Sure, its what every college graduate wants. But I wanted to do something a little more than that. Something special.
So, I came up with the idea of presenting him with a mini diploma in a mini frame so that he knew why we were giving him money.
Isn't it cute?
The frame was $4 from Michaels and it came with its own matting. I just typed up the diploma in Word and printed it on regular printer paper. The hubby suggested that I should have printed it on fancier paper (we did have a stack of resume paper lying in a desk drawer somewhere), but I didn't feel like reprinting it. The box was in my gift wrap stash, and the frame fit perfectly inside. When we got to Savannah, we collected money from everyone and bunched it up to act as the tissue paper underneath the frame.
It was a simple gift to put together. But I'm glad with the way it turned out. So much nicer than just a greeting card. And Dan's dad loved it! Mission accomplished!